Korean Studies classes: Put theory into practice
Views

1172

Writer

Gareth

작성일

20.04.28
Dear incoming fall 2021 & spring 2022 exchange students,
Selecting courses for your exchange period can be a daunting task, especially when your initial selections are made whilst you are in your home country.
The following article is intended to give you a little bit more information about our Korean Studies courses, which have been selected to complement your academic major at your home university.
I would encourage you to read the course curriculum's by clicking on the course titles below. All of these courses are scheduled to run in both the spring and fall semesters.
Please also look at the fall and spring course lists (contained within the 'exchange pack') for all of Hallym's English taught classes.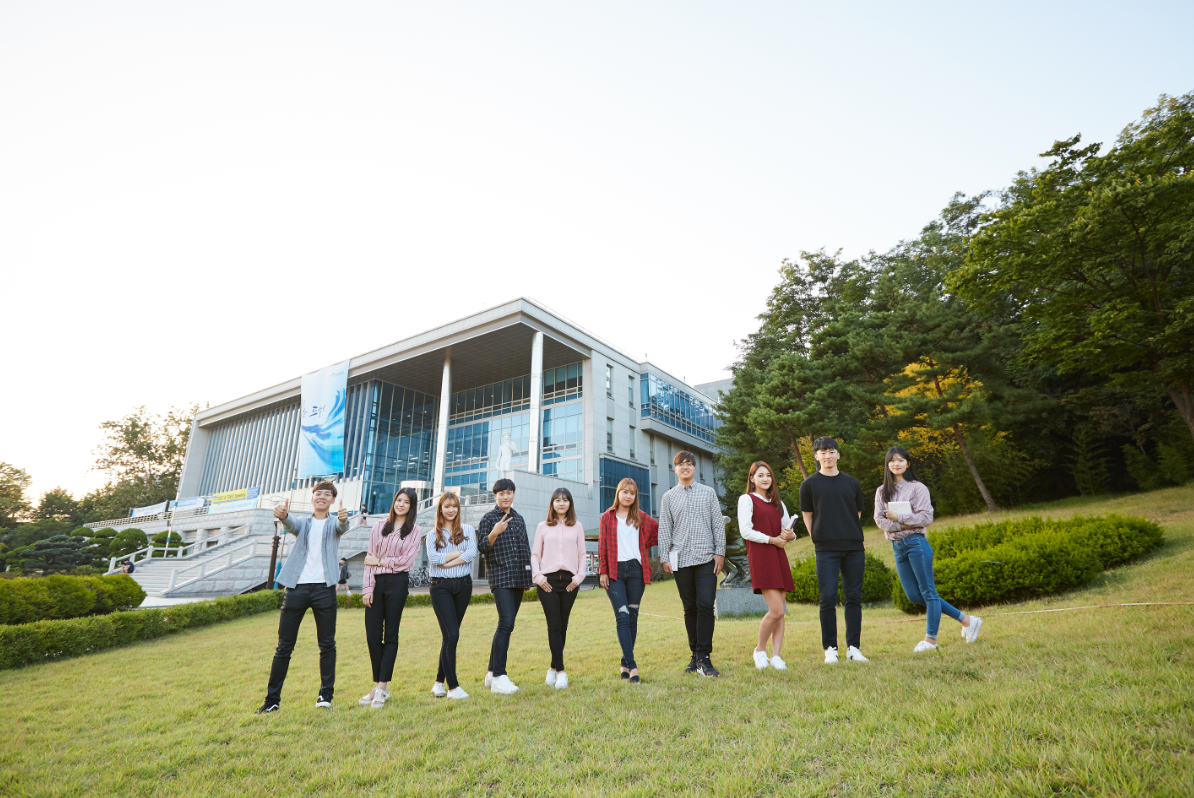 Encounters with Korea : Professor Ray Allen Bruce
The purpose of this course is to quickly and efficiently familiarize international students with day-to-day life in the Republic of Korea as they will directly encounter it. They will get insights both from Koreans and from non-Koreans who have spent a significant amount of time living and working in the country. This will allow them to not only function smoothly during their stay in South Korea but also gain a basic understanding about why this country is as it is. It will be essential in providing the smoothest meeting and branching out point at the intersection of their respective cultures and that of South Korea.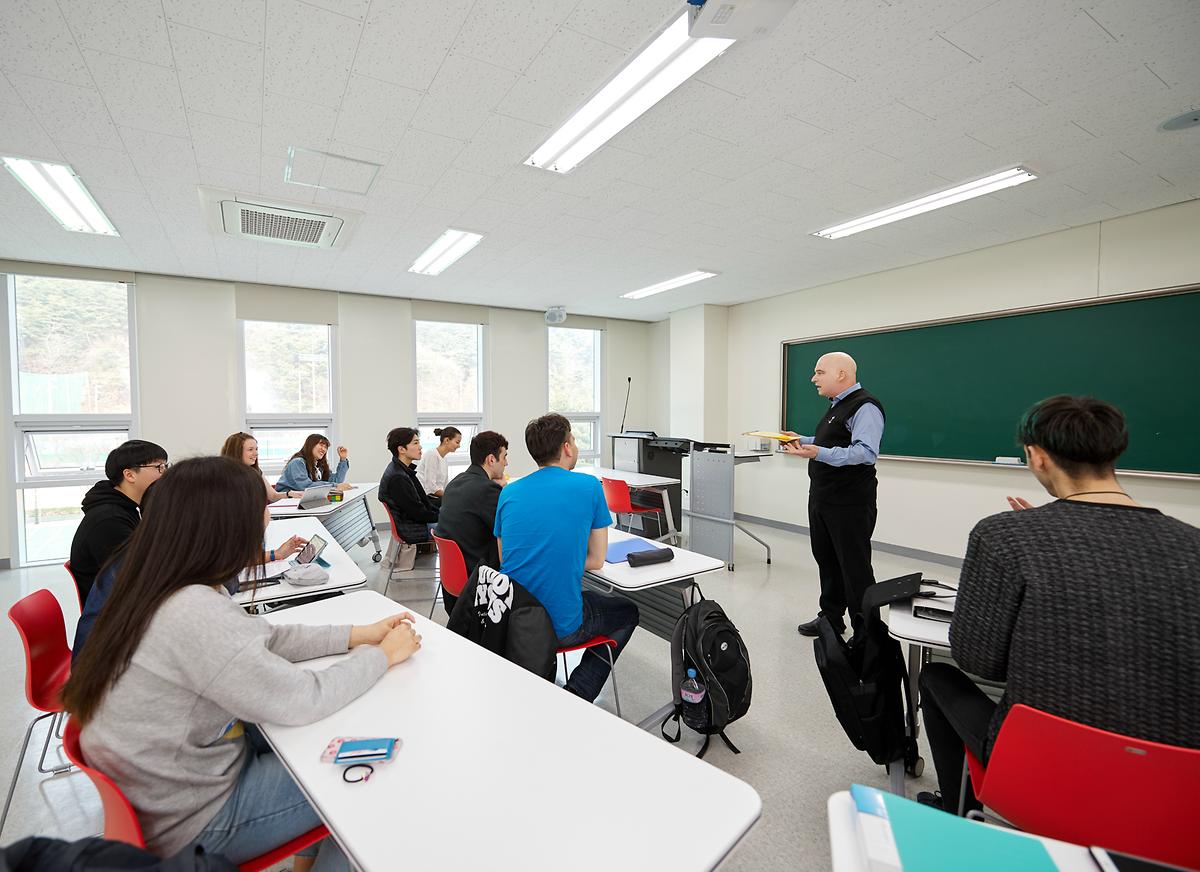 Fundamental Issues for International Business in Korea : Professor Britt Franklin Frey
This is a survey course that introduces various issues important to anyone wanting to study or engage in international business in Korea. Some topics included are: contracts, international business law, modern Korean corporate structures, historical and philosophical influences on modern Korean business culture, and major international corporations and their current operations in Korea.
Korean Film and Literature: Professor Eun Mi Noh
This course introduces students with little or no assumed experience of Korean literature and film to a selection of 20th and 21st century prose literature and representative critically acclaimed or popular films of the last 20 years. Students who complete this course will have a greater understanding of recurrent concerns in Korean culture, a sense of developing fashions in modern and contemporary culture, and a framework and vocabulary for interpreting and discussing these things.
Current Issues in Modern Korean Society: Professor Jiyeon Lee
The course will be designed to explore current issues in modern Korean society. The course provides students with the opportunity to explore and understand the most up-to-date social issues in Korea and what this means for our understanding of these issues in a global scale. Students will gain insights significantly from attending and participating in class. The course will teach students skills which will help them to thrive in an academic environment: reading effectively and writing expressively in English on a variety of stimulating topics, organise ideas and express themselves more effectively and sophisticatedly in English, think independently and share ideas with classmates for collaborative reading and writing as well as peer feedback.
Korean Economy: Dynamics and Future: Professor Changik Jo
This course is basically designed to disseminate the knowledge on how Korea has been growing historically since early 1960s until recently. The topics include overview of economic growth in Korea, by dividing the time periods such as 1950-1961, 1961-1970s, 1980s, 1990s, Asian financial crisis with social and economic restructuring afterward, and 21st century. On top of a series of government driven economic planning, the course will highlight the pattern changes in industrial structure, labor relations, and social impacts. And the course will discuss the future trends in the aspects of ICT, industrial revolution 4.0, etc.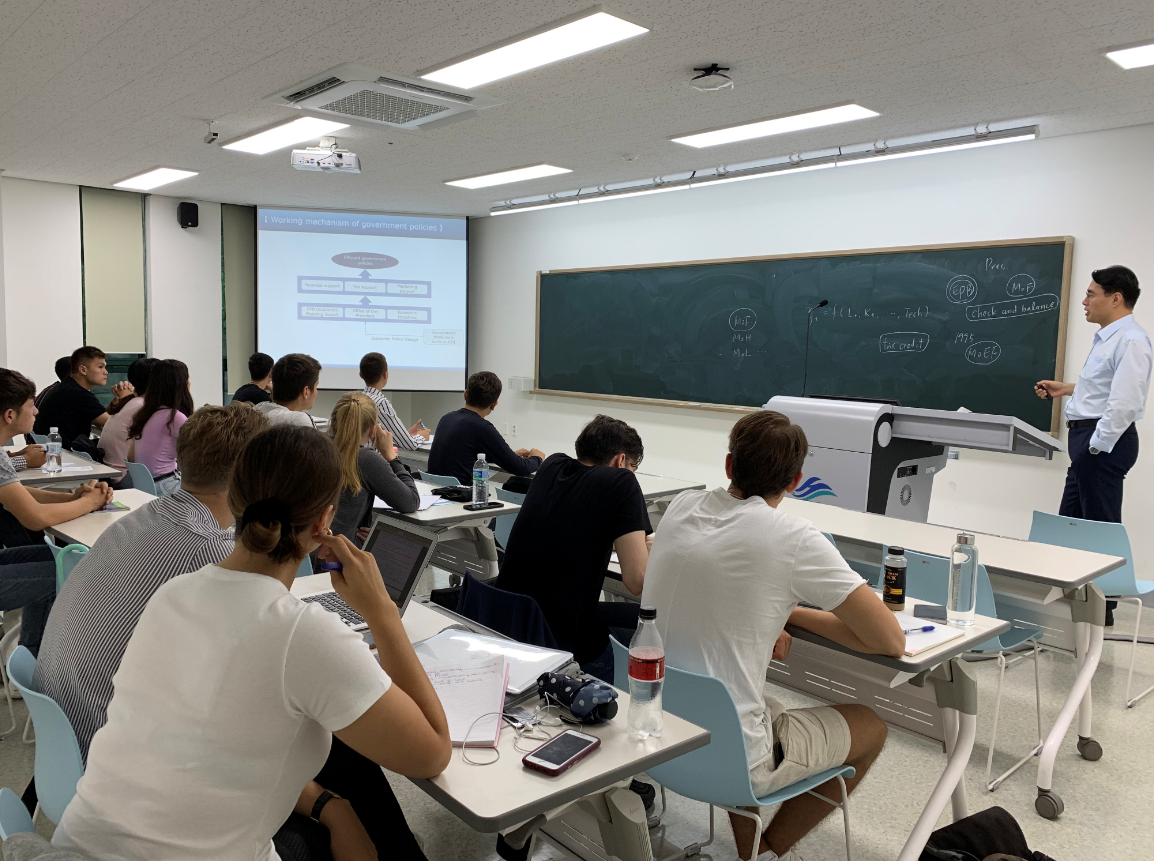 Regional Korean Event Marketing & Cross-Cultural Analysis for Business: Gareth Quarton, PGCE
Hallym University is situated in the beautiful region of Gangwondo. Gangwondo is famous for its local festivals with almost every city or town having at least one festival per year, attracting national and international tourists.
During this course you will choose one named festival in Gangwondo and compare it to a similar themed festival in your home country (Korean students will find a similar named festival outside of Korea and compare and contrast). How are they similar? How do they differ? How is the event marketed and how does this compare to a similar event in your home country?
You will gather festival data and devise a (nationality) specific marketing plan for citizens of your home country with the aim of raising international awareness of the named festival in your home country.
You will create a business plan and marketing and advertising content and produce oral presentations in which you reflect and justify your decisions.
Korean Comparative Constitutional Law: Professor Britt Franklin Frey
This course will examine the Korean constitution in relation to those of Japan, China, Germany, and the United States; other countries may be added to the list based on student nationalities. We will discuss significant similarities and differences, the effects of World War II on subsequent constitutions, and influences from external powers. Near the end of the course, we will look briefly at statistical analysis of documents and how it can be applied to constitutions.
The Way We Will Be: The Future of Korea: Professor Changik Jo
What does the future of Korea look like? This is an awfully vague question that can't be answered in a linear fashion. In terms of achievements, South Korea has thrived and made great contributions to the world in many aspects. But, more recent observation on demography, economic and social issues, ongoing problems in two Koreas have badly concerned us. In this course, we want to discuss the future of Korea in almost every directions asking questions from "How did South Korea become so rich?", "As someone who is Korean or lived in South Korea as a foreigner, how do you predict what Seoul and South Korea will look like in the future? "To" What is the future of South Korea's economy? "And" What will my future be in south Korea? "Each session will hold massive discussion among students and instructors.