2020 fall semester class operating instructions
Views

313

Writer

글로벌협력센터

작성일

20.08.03
2020 fall semester class operating instructions
August 18th 2020 update:
'As the government's level of social distancing in Seoul and Gyeonggi-do has been upgraded to stage 2, the second semester class operation method will be changed and applied to the quarantine reinforcement class equivalent to the second level (Stage 2 of the table, below). '
The original Korean version of this message can be viewed here.
---------------------------------------------------------------------------------------------------------------------------
The original Korean version of this message can be viewed here on Hallym University main web page.
During the second semester of the 2020 school year, face -to- face and non-face-to-face lectures have been designed according to the characteristics of the lecture. For incoming exchange students and their current likely course selections, this means that currently most courses will continue 'face to face,' whilst following social distancing guidelines and enhanced hygiene standards.
Hallym University is currently in 'Stage 1' (of the table below). This situation is being monitored daily and is subject to change, depending upon national or local COVID-19 infection level.
Please note: That during 'Stage 1' management level, 'face to face' class level will run at approximately 50% class capacity, compared to a regular semester.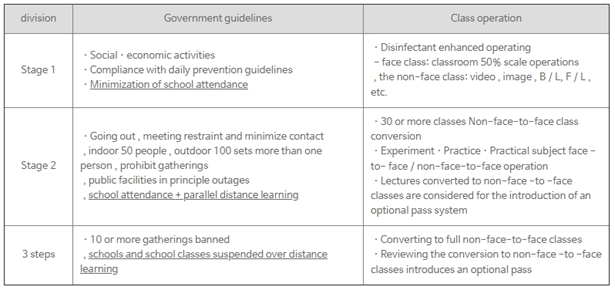 Thank you for your support!
Hallym International Students and Scholars Office (ISSO)
"파일 명이 길 경우 브라우저 특성상 파일명이 잘릴 수 있습니다."