Relighting the footsteps of Dr. Duck-Sun Yoon, a.k.a. Ilsong, in 2021, the 100th anniversary of his birth.
Views

155

Writer

글로벌협력센터

작성일

21.01.13
Relighting the footsteps of Dr. Duck-Sun Yoon, a.k.a. Ilsong, in 2021, the 100th anniversary of his birth: his contribution to the Korean Health Insurance and Foundation for a Medical School in Korea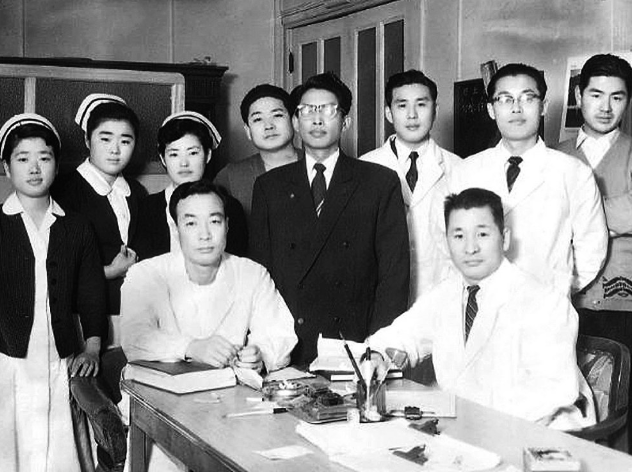 (Dr. Yoon is on the left in the front row. This photo was taken in 1959 with colleagues in the medical science class while serving as a full-time professor)
The footsteps of modern and contemporary historical figures can be used as an opportunity for a regret and reflection in the present age. Among these, there is an important person who laid the foundation of the Korea's domestic health insurance system and that of a medical school, and pioneered the Medical Korean Wave for the first time, who is yet not well known in the modern history. It is Dr. Duck-Sun Yoon, a.k.a. Ilsong (1921-1996). The founder of Ilsong Academy was born exactly 100 years ago and spent all his life working as the cornerstone of Korea. Munhwa Ilbo (Daily) talks about Ilsong's historial footsteps through two episodes: one from past to present, and another from the present to the future.
"Be buried in the ground and be a cornerstone." 
"Do not show off but sacrifice yourself."
"Support and serve behind the scenes"
These are Ilsong's mottos. Dr. Yoon said "I hear a lot of saying that there is no leader in our country. However, rather than having no leader, I think there is no background roles, who can serve as the foundations to be buried, to build a strong country on top of them. I have lived up to this motto without any regret."
Born in Pyeongannam-do, on January 11, 1921, the founder of Ilsong Academy and the first-generation doctor in Korea, graduated from the best prestige high school in North part of Korea, Pyongyang Public High School. His mottos were completed after hearing the words of gift from his teacher in the 3rd year of high school. Since then, Dr. Yoon has lived a life of practicing service and dedication with the spirit of the cornerstone. Today when people consider personal safety and wealthy success are supreme values of life, it is an evaluation that he has fulfilled his responsibility to the nation and society by using his medical skills.
His father recommended him to become a doctor because, according to him, being a doctor was the only way for Korean people to live without bowing their heads towards Japanese people during and after the Japanese colonial period. Dr. Yoon enrolled in Kyungsung College (now Seoul National University Medical School) and graduated in 1942. After the 9.28 Seoul Restoration, he worked at a field hospital in the US military, and went to study abroad for training in pathology and surgery at Bridgeport Hospital in Connecticut, USA. After returning to Korea, he trained students studying medicine as the only full-time professor at the Medical School of Sungshin University (now the Catholic University of Korea). In 1961, he took the lead of opening a new Myeongdong St. Mary's Hospital (now the Catholic Central Medical Center) and visited rural hospitals to treat residents for free.
Dr. Yoon quit the position of Director of Myeongdong St. Mary's Hospital and Director of Catholic Central Medical Center, and founded the Korean Institute of Medical Science in May 1968 with 13 professors who followed him and promoted ``social service through medical research, medical education, and treatment''.  In June 1968, this corporation opened 'Pildong Sacred Heart Hospital (now Chung-Ang University Hospital)'. It is the first private general hospital in Korea established by an individual. In addition, with the will to build a hospital for the poor, the Hangang Sacred Heart Hospital (now one of the Hallym University Hospitals) was opened in December 1971, a private general hospital south of the Han River. Continuously he built Dongsan Sacred Heart Hospital, Gangnam Sacred Heart Hospital, Chuncheon Sacred Heart Hospital, and Gangdong Sacred Heart Hospital in areas lacking medical facilities. 
From the very beginning of its opening, The Sacred Hearth Hospitals provided free medical treatment to the poor every year in cooperation with Seoul Metropolitan Government. As the number of patients increased, in 1975, Dr. Yoon's foundation has run a Sacred Heart Charity Hospital, which is the first free private charity hospital in Korea, for 7 years until its closure with the Korean National Health Insurance. During the 7 years, the charity hospital treated more than 100 million people. Its monetary amount converted to the present value is about 50 billion won. The history of free medical treatment still continues. From 1972, Hallym University's hospitals provided it annually to 3,000 people in local communities, that is a total of 141,928 people.
Dr. Dai-Won Yoon, the current chairman of Ilsong Academy and the son of the founder, said "I hope that it will be given as a time to reflect on the life of Ilsong and to look back on our lives standing in front of a cataclysm in the time of human history. Let's question to ourselves. Are we brave and honest? Are we making efforts? Are we considerate of others? And haven't we forgotten the whole life of humanity and living together these days? In celebration of the 100th anniversary of Ilsong's birth, Ilsong Academy is promoting Ilsong's philosophy of the 'being cornerstone, sacrifice, and give service for others'.
[Original Article in Korean, by Yong Kwon Lee @ Munhwa Ilbo]