Hallym's David: Showcasing Arts and Culture on Hallym Campus
Views

499

Writer

Global Engagement Center

작성일

22.10.25
The library is the first thing you see when you pass through the main gate of Hallym University. In front of it is a mysterious white statue.
The Appearance of David in Hallym University
Today the David statue can be found guarding front of Ilsong Memorial Library.
Did you know that this is David's 'second coming' at Hallym University?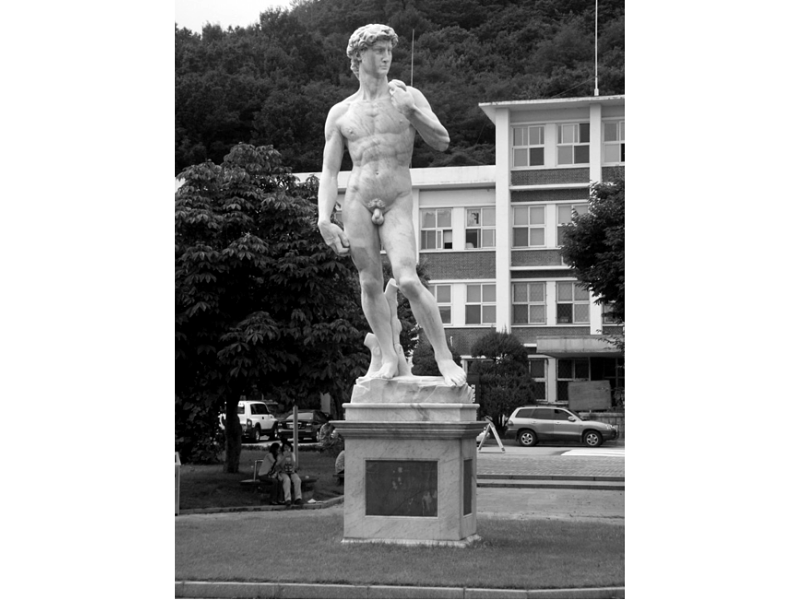 (David's photo at the time of initial installation)
The original Hallym David was located at the current location of the Hallym founder's statue (Dr. Yoon Duk-Sun) in front of the Engineering Building (today SW building).
It was donated in 1987 by the late Chairman Dr. Yoon Duk-Sun, the founder of Hallym University.
This was a replica of Michelangelo's David, commissioned by Italian sculptor Carlo Nicoli.
This statue was installed at Hallym in June 1987 and was said to be the first in Korea.
Unfortunately, it was demolished in 2005, after 18 years, due to safety concerns due to weathering.
Two years later, Dr. Yoon Dae-Won, President of Ilsong Academy, donated a new David statue to aid the progressive leap of Hallym people and "that" David statue in front of the library as we know it today was installed.
David arrived at Hallym University in May 2007 and was installed over 10 hours using a crane.
How was Hallym University's David made?
The David statue as we know it today is a replica of the 'Michelangelo David' statue made locally by an Italian production company. After going through this process, a masterpiece made of Italian white marble with a size of 6.35 m and a weight of 12 tons was created, which is unique in Korea.
A new viewing point was installed with David guarding the front of the Ilsong Memorial Library.
What is David doing?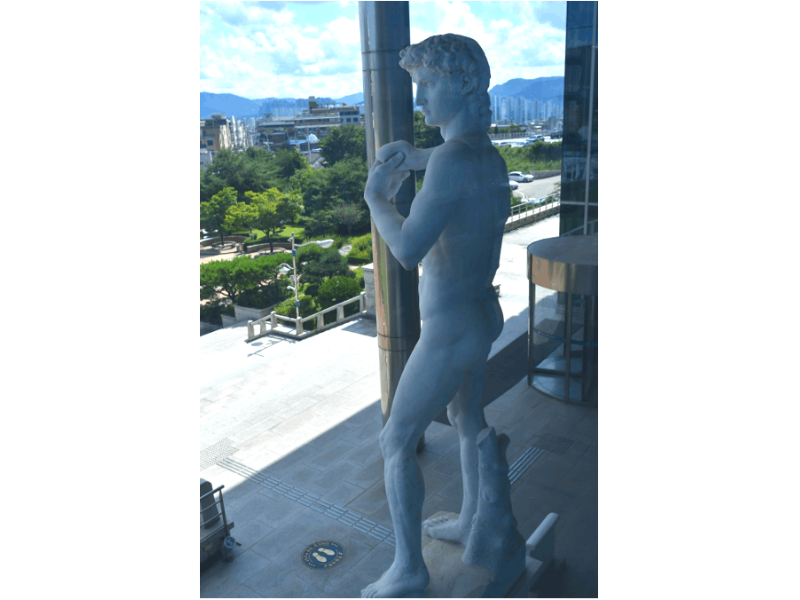 This David statue depicts David quietly waiting for Goliath to approach him and preparing for his next move. A nude young man just about to throw a stone, his whole body muscles are tight, his angry face is slightly turned to the left, his right hand and feet are both fixed on the ground vertically, while his left hand is It is raised to grab the slingshot strap and appears to move slightly with the left foot.
What is the relationship between Hallym University and David?

Hallym University has used phrases such as 'Mighty Hallym', 'A small but great university' as its mottos.
In terms of the subject, the artist, and the work of Michelangelo's David statue mentioned above, it fits the motto of Hallym University very well and has resulted in David becoming one of the most recognizable symbols of Hallym University.
To view the full original article (in Korean) please click the link.